Emergency Preparedness Tools and Resources Developed by MTDH and Partners
Public Health Data Sets
State Generated Data
Resources for Emergency Managers
Resources for Community-Based Organizations
Resources to Assess Shelters
Public Health Data Sets
Registries

Montana Disability and Health program has created an Emergency Medical Information Kit to improve communications about medical and functional needs during an emergency. The kit also promotes awareness of Smart911 and offers support for people with disabilities that may need help creating their profiles; as well as provide information about available emergency preparedness materials. The kit materials include a plastic bag, an Emergency Medical Information form, and a magnetic hook.
Complete the form and keep it in the Emergency Medical Information Kit's plastic bag.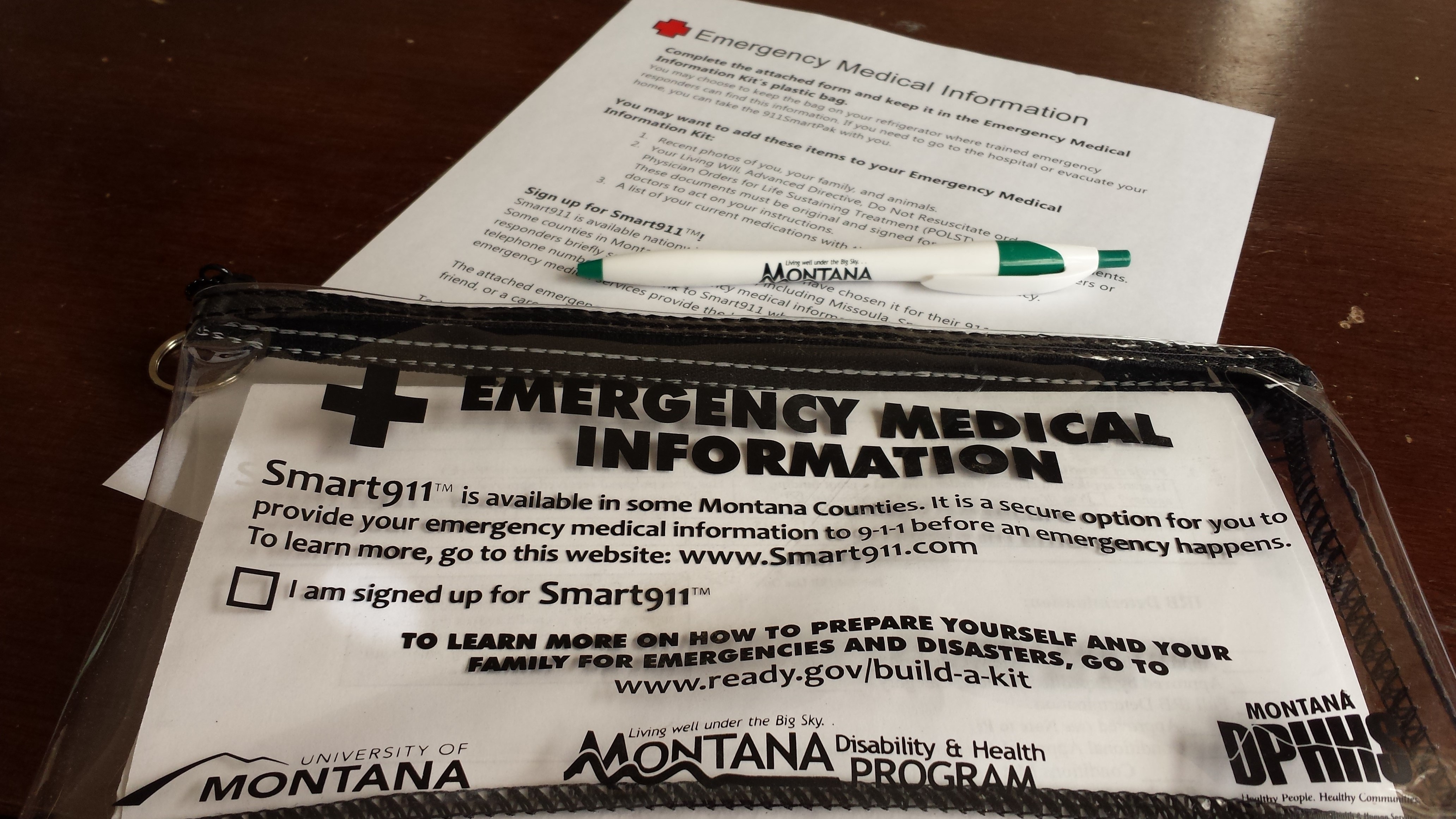 Download the Emergency Medical Information form (Word format)
You may choose to keep the bag on your refrigerator where trained emergency responders can find this information. If you need to go to the hospital or evacuate your home, you can take the Emergency Medical Information Kit with you.
You may want to add these items to your Emergency Medical Information Kit:
Recent photos of you, your family, and animals.
Your Living Will, Advanced Directive, Do Not Resuscitate orders (DNR), Physician Orders for Life Sustaining Treatment (POLST), or similar documents. These documents must be original and signed for emergency responders or doctors to act on your instructions.
A list of your current medications with the name of your pharmacy.
Sign up for Smart911™!
Smart911 is available nationwide in towns that have chosen it for their 911 centers.
Some counties in Montana use Smart911, including Missoula and Butte-Silver Bow counties. Smart911 lets emergency responders briefly see your emergency medical information when you call from a telephone number that you link to Smart911 when you set up an account. This helps emergency medical services provide the best care for you.
Summit Independent Living Center's newsletter article on Smart911 is available at this web address: http://www.summitilc.org/newsletter/smart911-available-to-missoula-county-residents/
The attached emergency medical information form was prepared by Smart911. You, a friend, or a care giver can use this information to make signing up for Smart911 easy.
MTDH has developed an assent form with its partners that explains Smart911 in plain language for use in service and supports planning. The form outlines support options for individuals to consider.
To learn more about how to prepare yourself and your family for emergencies and disasters, go to: www.ready.gov/build-a-kit
For additional information about registries, visit the Emergency Registries for People with Access and Functional Needs website. The author, June Isaacson Kailes, continues to work with MTDH on various activities that include emergency preparedness.
State Generated Data
MTDH brought together data from the American Community Survey, Montana Vital Records, Medicaid, Homeless Survey, US Census Small Area Survey, KIDS Count, WIC, and the HCBS Waiver program to provide a comprehensive picture of disability for each state's county. See the Montana County Profiles.
Resources for People with Disabilities and their Caregivers
Montana Department of Public Health and Human Services (MTDPHHS), Public Health Emergency Preparedness Program (PHEP) Select Resources
Resources for Emergency Managers
Montana's Community County Profiles: After assessing the needs of people with disabilities in the state's counties, MTDH has shared results with emergency managers to help them improve their emergency plans and address the specific needs of their communities. See Montana County Profiles
Missoula's Access and Functional Needs (AFN) Subcommittee – Pathway to Whole Community Planning. The following materials describe the approach that a local health department has taken to develop and integrate an AFN Subcommittee for emergency planning:
Resources for Community-Based Organizations
Whole Community Approach – Emergency & Disaster Preparedness. This is an MTDH presentation that can help everyone who provides services and supports to fulfill their role on making sure people with disabilities are well informed and have the resources they need to stay safe during emergencies and disasters.
Shelter 2020 Facility Selection Tool (PDF): The intent of this tool is to assist Montana's county and tribal emergency managers, Local Emergency Planning Councils (LEPC), Tribal Emergency Response Commissions (TERC), and other stakeholders to identify the best or most feasible locations for disaster shelter facilities in their jurisdictions. This action is the initial step in Phase 1 of the Shelter 2020
Resources to Assess Shelters
Montana Shelter2020 Initiative: This is a five-year statewide project that guides local emergency planners and their partners through a series of assessments and planning activities to build the capacity of selected shelters to serve the whole community. Through Shelter 2020, the Montana Disability and Health Program Accessibility Ambassadors collaborate with local emergency managers to assess each shelter's accessibility and identify any needs for improvement. For this purpose, MTDH has updated the Department of Justice's ADA Checklist for Emergency Shelters to include 2010 ADA standards. DOJ Emergency Shelter Checklist (2010 ADA Updates)
Montana Disability and Health program developed a survey to assess shelters' accessibility and also organized an Emergency Shelter Accessibility Workshop for shelter managers and staff.
Whole Community County Profiles Presentations.